760
571
Modern Girls Dress Design!
Modern Girls Dress Design! Game Info
Advertisement
Beautiful Princess Rachel is so happy that is spring already! Now she can go out with her friends and have a lot of fun because spring is her favorite time of the ear. But first she needs new fashion outfits, so she asks help from Princess Ellie and Annie! The two sweet princesses accepted the invitation and they go to Rachel home and they all started creating the perfect dress. First Rachel needs a cute fashion outfit to go out in the park with all of you. Then later on she must go to her parent's castle ball. I know you can create a gorgeous ball dress for her. Have fun in this amazing game and create the most beautiful dresses you can.

Enjoy playing Modern Girls Dress Design! game online on JaneGames.com. This game is absolutely free and available on any device, both Desktops and Mobile phones. Feel free to write any comments and sharing Modern Girls Dress Design! game.
More Similar Games
Screenshot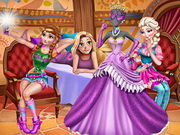 Information
Game Title:
Modern Girls Dress Design!
Screen dimension:
760x571 px
Language:
English
Played:
75527
Game categories:
More Hot Games